Dog and cat ownership by far make up the largest groups for pets owned by U.S. households. Their numbers in 2012 ranked 36.5% and 30.4%, respectively. Fish, birds and horses trail behind, but are still popular pets. But what about the rest? For those who are thinking of adding one of the more exotic or different pet, there are many to choose from for all types of households. There are many factors that should be considered before adding any pet to your family.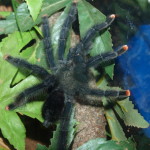 One of the most important things to consider is proper housing. This can range from a simple enclosure for a tarantula or mouse to a large and elaborate enclosure for a monitor lizard or large livestock. Remember, that baby Savannah Monitor, Green Iguana or Burmese Python that started off happy in a 20 gallon aquarium will grow to a large animal which will eventually require a very large enclosure. "A reptile will only grow as large as its enclosure" is a HUGE myth, and entirely untrue. They will outgrow their small tank, and they will need a lot more space. Make sure you can provide this when the time comes.
Another thing to consider is environment. Some exotics live in very temperate climates with specific humidity requirements. A cold and dry house might make keeping the proper humidity and temps quite a challenge. Make sure you will be able to meet those requirements in your pet's enclosure no matter the temperatures of your home. Also remember this could be an added expense that you might not have considered. If you don't want to have to worry about higher electric bills, look into pets that are already adapted to the type of environment that doesn't need many extras and can easily be emulated in your home environment.
Feeding is another big consideration. If you are squeamish about feeding animals to other animals, a carnivore like a snake or monitor is probably not the pet for you. If you don't like bugs, then you might think twice about getting that cute leopard gecko, who loves to eat them. There are quite a few exotics that are largely vegetarian, like many lizards and tortoises. Pets like rodents, rabbits, chickens, goats and pot-bellied pigs are also happy to eat pellets, hay, and veggies also. (Note: although chickens are happy to eat chicken feed, they are by no means vegetarians, and having a well-rounded diet that includes insects and other proteins will help to keep them healthy and happy.)
Commitment is a biggie also. Some insect pets will live just a few months, and many tortoises will most likely outlive you with proper care. Make sure you have the means and desire to stick it out to the end. A pet is a commitment to the end of its natural life, and not just a fad, tossed aside or moved along on a whim. A lot of animals end up in bad situations because the owner got sick of them or got in over their head.
Another important consideration is medical care. It is a good idea to find out what veterinarians in your area treat exotics or farm animals and get to know your vet. There may come a time when you need veterinary care for your pet, and many regular dog and cat vets don't have the desire or expertise to see your reptile, rodent or livestock animal.
Most importantly, before getting any animal… research, research, research! Find out all you can about the pet you are interested in getting before you get one. There are many great online forums full of knowledgeable owners and breeders online, and always check multiple sources, because there is a lot of misinformation online, also. Check Amazon for recommended books on your pet of choice, and read as much as you can. That way you can make an informed decision if that pet is right for you and if you can meet all the requirements to give that animal a long and healthy life.